NYC Hypnosis
Sessions
Located on the Upper West Side of Manhattan, serving New York City for 20+ years

Hypnotherapy for Improved Sports Performance in NYC
Are you trying to get to the next level or discover new ways to creatively improve in your sport of choice? Hypnotherapy is a recognized practice for realizing your highest potential and to push the boundaries of physical performance. It will allow you to let go of any fear or limiting beliefs
New York City Hypnosis Programs
Hypnotherapy for Improved Sports Performance
Are you trying to get to the next level or discover new ways to creatively improve in your sport of choice? Hypnotherapy is a recognized practice for realizing your highest potential and to push the boundaries of physical performance. It will allow you to let go of any fear or limiting beliefs that create psychological barriers to improvement. It will then become easier to stay motivated, train at a higher level and gain new perspective and techniques for success. When this fear vanishes, you will naturally trust your innate ability to succeed in your particular sport. Often when we feel pressure from ourselves or others, we start making more mistakes and begin to doubt our abilities. When it is game day or time to perform, the most important thing we can mentally do is to trust ourselves and "get out of our own way." Hypnotherapy is a powerful means to create positive belief systems which will allow us to do just that.
Subconscious beliefs may be creating feelings of doubt, insecurity, procrastination or unenthusiasm to practice. 95% of our conscious experience is created through our subconscious mind. Through hypnosis, we can create new belief systems which are in alignment with our sports goals. Naturally, we will feel more enthusiastic and have greater focus to improve ourselves.
With over 20 years of experience, our trained hypnotist have assisted professional and recreational athletes in reaching their goals. These athletes have responded with a greater sense of vigor, excitement and confidence. Mind and body are interdependent and we need to work on every level in order to maximize our potential.
Please call the Advanced Hypnosis Center located in Upper East Side Manhattan at 212-585-4430 to schedule an appointment for Hypnotherapy for Improved Sport Performance. We encourage you to make this invaluable step on your journey of becoming the highest and strongest version of yourself.
Advanced Hypnosis Center NYC
Our outstanding New York City hypnotists are here to help you reach your goals in 2 to 3 hypnotherapy sessions. The clinical hypnotists at New York City's Advanced Hypnosis Center have decades of experience in hypnosis and helping people improve their lives. Providing hypnotherapy on the Upper West Side of Manhattan we can help you with your life challenges and help you set upon a new, more satisfying and fulfilling path in life.
Our New York hypnotists are certified and trained by the International Medical and Dental Hypnotherapy Association, the International Association of Counselors and Therapists and or the National Guild of Hypnotists. When you come to your hypnotherapy session, your visit will be relaxing and professional from the first moment you step into our Manhattan hypnosis center on the Upper West Side of Manhattan, NY.
Regardless of how busy your personal schedule may be, we are able to work around client schedules, offering a variety of opportunities for hypnotherapy including evenings and weekends. You should know we are happy to make a House Call hypnosis sessions should you prefer to have the session conducted in the privacy of your own home.
 NYC Hypnosis Programs
  OPENING HOURS
| | |
| --- | --- |
| Monday – Friday | 8:00 – 17:00 |
| Saturday | 9:30 – 17:00 |
| Sunday | 9:30 – 15:00 |
  OFFICE LOCATIONS
110 W 96th St #2b, New York, NY 10025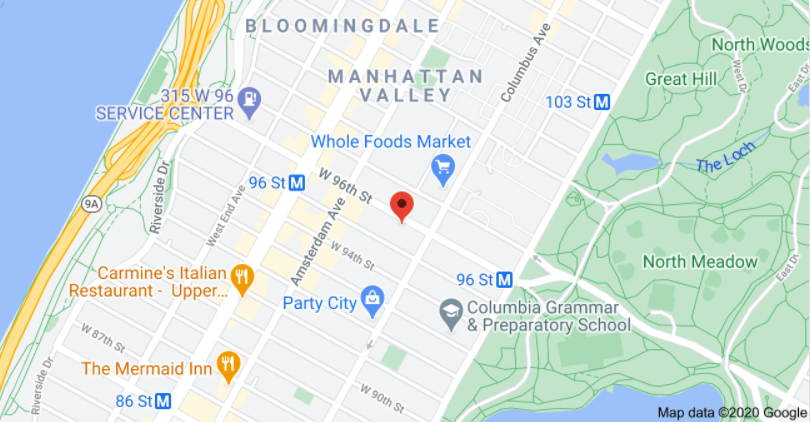 Most Popular Advanced Hypnosis NYC Programs
Listed below are only the most common challenges the staff at the Advanced Hypnosis Center are called on to resolve for our clients. You should know that these only represent a small number of all the programs we have available in order to deal with the many challenges we have seen in our practice.
Advanced Hypnosis NYC's Comforting Staff
When you come to your hypnotherapy session, your visit will be relaxing and professional from the first moment you step into our Manhattan hypnosis center on the Upper East Side or our Rockland County, NY hypnosis center in New City, NY. In addition, you will have the opportunity to choose whether you are more comfortable seeing a male or female hypnotherapist.

NYC HYPNOTISTS IN THE NEWS
Jeffrey Rose has been featured in many New York and national news segments on health and the benefits of hypnosis, here are just a few. visit our media page to see all our videos.
Hypnosis Sessions
Advanced Hypnosis Center of NYC can help you make positive changes in your life as in as few as just 2 or 3 sessions.