Our hypnosis program and positive suggestions will help you relax and  facilitate your physical and psychological recovery from surgery.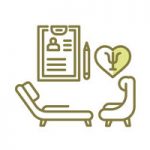 Hypnotherapy for Weight Loss.
Our hypnotherapy for weight loss program
will help you lead a healthy and nutritious lifestyle.
New York City Hypnosis Programs
Often surgeries are far more complicated and invasive than need be because the patient's state of mind and cooperation are occupied with fear and worry. Negative thinking can activate defensive mechanisms in the patient and create constriction in the body which may impede surgery as well as the body's natural healing mechanisms. Doctors are now understanding the value that hypnotherapy plays in performing a successful surgery, minimizing invasive procedures or drug use, and ensuring an optimal postoperative recovery period for the patient. In fact, blind studies have demonstrated that those who underwent hypnosis before a hysterectomy showed greater improvement in bowel health and recovery time compared to the control group. Through hypnotherapy, we can access the subconscious mind and create positive and life affirming belief systems associated with the upcoming procedure. 
Various studies have shown that surgical patients treated with hypnosis experienced substantial pre, intra and post-operative benefits. "These include reduced preoperative anxiety, less adverse events during surgery, less chemo analgesic requirement during surgery, less procedural duration, and better postoperative outcomes."(www.researchgate.net) When an individual has negative thinking or worry about an upcoming procedure, the body may often respond by expecting a painful and difficult experience. Our subconscious mind is responsible for the majority of the autonomous functioning of the body and it is important that we are mindful of the thoughts and expectations we have of an upcoming surgery. Hypnotherapy will alter any negative belief systems and allow you to experience greater feelings of trust and optimism. You will also leave your session with tools that you can apply to deepen your relaxation when negative feelings arise or moments before the surgery. These tools will become a powerful resource for you. 
Hypnotherapy is a perfectly natural process that does not rely on medicative intervention. In fact, it may even minimize or completely eliminate medication during the procedure. The less invasive the procedure, the less stress your body will experience and recovery time will be improved. The objective of any procedure is to create a better state of health and balance. Hypnotherapy can help shift your perspective from fear of surgery to joy and gratitude about receiving treatment that will correct or improve an issue and bring you greater health. 
Please call the Advanced Hypnosis Center located in Upper East Side Manhattan at 212-585-4430 to schedule your appointment for Hypnotherapy for Surgery Preparation. We encourage you to make this invaluable step towards a smooth surgery and a comfortable recovery. 
Advanced Hypnosis Center NYC
Our outstanding New York City hypnotists are here to help you reach your goals in 2 to 3 hypnotherapy sessions. The clinical hypnotists at New York City's Advanced Hypnosis Center have decades of experience in hypnosis and helping people improve their lives. Providing hypnotherapy on the Upper West Side of Manhattan we can help you with your life challenges and help you set upon a new, more satisfying and fulfilling path in life.
Our New York hypnotists are certified and trained by the International Medical and Dental Hypnotherapy Association, the International Association of Counselors and Therapists and or the National Guild of Hypnotists. When you come to your hypnotherapy session, your visit will be relaxing and professional from the first moment you step into our Manhattan hypnosis center on the Upper West Side of Manhattan, NY.
Regardless of how busy your personal schedule may be, we are able to work around client schedules, offering a variety of opportunities for hypnotherapy including evenings and weekends. You should know we are happy to make a House Call hypnosis sessions should you prefer to have the session conducted in the privacy of your own home.
 NYC Hypnosis Programs
  OPENING HOURS
| | |
| --- | --- |
| Monday – Friday | 8:00 – 17:00 |
| Saturday | 9:30 – 17:00 |
| Sunday | 9:30 – 15:00 |
  +44(0) 1865 339665
  OFFICE LOCATIONS
WHAT OUR CLIENTS ARE SAYING
Over the last 20+ years, the Advanced Hypnosis Center of NYC has helped 1000s of people achieve their goals with Hypnosis and can help you too!
It's been one month since I went for smoking and it was the best decision of my life! So grateful that I found him!  Highly recommend, great experience and very effective. Thank you!
Jeffrey Rose did a seminar at our company for employees.  The topic was empowerment and motivation.  The event was a tremendous success and we will most definitely have him back again each year.
For over ten years I have had sleep issues. Through Jeffrey's helpful techniques I am now falling asleep faster and sleeping much deeper. I was delighted that this happened with only a few sessions.
Hypnosis Sessions
Advanced Hypnosis Center of NYC can help you make positive changes in your life as in as few as just 2 or 3 sessions.